The term 'filler', refers to substances that can be injected into the subcutaneous tissue or deep dermis, which are widely used in aesthetic medicine to correct a wide variety of imperfections, particularly of the face.
As they are non-invasive outpatient procedures, given their application through very thin and almost painless needles, the use of fillers is becoming increasingly popular among both men and women, and is increasingly replacing cosmetic surgery.
However, it is not enough to say filler.
Indeed, injected substances can be of different types and profoundly different in terms of the type and duration of results and the side effects they can give rise to.
Current trends in aesthetics see an increasing use of hyaluronic acid fillers, which, by their very nature, prove to be the safest and most capable of ensuring long-lasting and natural effects at the same time.
But, again, talking about hyaluronic acid is not enough to guarantee the quality and tolerability that only the best hyaluronic acid fillers can offer.
If you are considering using fillers to improve your appearance, there are some things you should absolutely know.
In this article, after a brief excursus on the main types of fillers in general, we will find out which are the best hyaluronic acid fillers.
In particular, we will look at the following:
How many types of fillers exist?
The main distinction between facial fillers concerns their ability to be reabsorbed by the body, a characteristic that translates into both a different treatment duration and a different tolerability (and, therefore, into a greater or lesser possibility of giving rise to undesirable effects).
We will put them in descending order, starting with the safest ones and ending with those that are strongly discouraged (and have basically fallen into disuse).
1. Resorbable or biological fillers
Absorbable or biological fillers are completely reabsorbed by the skin because the body is able to metabolise them.
The advantage of these facial fillers is that they do not require a particular post-treatment course, are well tolerated and guarantee very natural results.
Among these, the best filler for its characteristics and properties is hyaluronic acid.
Since it is a molecule naturally present in the body's connective tissues and plays a fundamental role in supporting the dermis, its injections are usually very well tolerated.
A comparison between hyaluronic acid and collagen – another substance used in fillers – shows the superiority and greater safety of the former over the latter.
In addition, hyaluronic acid fillers also stimulate collagen production by the fibroblasts, thus acting on a double front to provide the right support for the skin.
Lastly, the best state-of-the-art hyaluronic acid fillers, such as Foliage by Phitogen fillers, allow for slower absorption, which makes it possible to prolong the effects of treatments for up to a year (with differences varying from subject to subject).
2. Semi-permanent fillers
Semi-permanent or partially synthetic fillers (such as calcium hydroxyapatite or hyaluronic acid combined with an acrylic hydrogel) have the advantage of effects that can last up to over three years.
However, precisely because their reabsorption by the body is very slow, the risk of side effects and allergic reactions increases.
Moreover, any errors or a result that does not correspond to the patient's wishes, take a long time to correct.
Permanent or fully synthetic fillers, also known as non-resorbable fillers, refer to substances that the body cannot metabolise at all, and will therefore remain in the subcutaneous tissue or dermis permanently.
This includes, for instance, silicone in implants or injectables, a substance that, due to the serious side effects it can cause (such as infections and abscesses, up to loss of sensitivity of the treated area) has practically fallen into disuse for the treatment of facial blemishes.
Having made this overview of filler types in general, let us now look at the best hyaluronic acid facial fillers.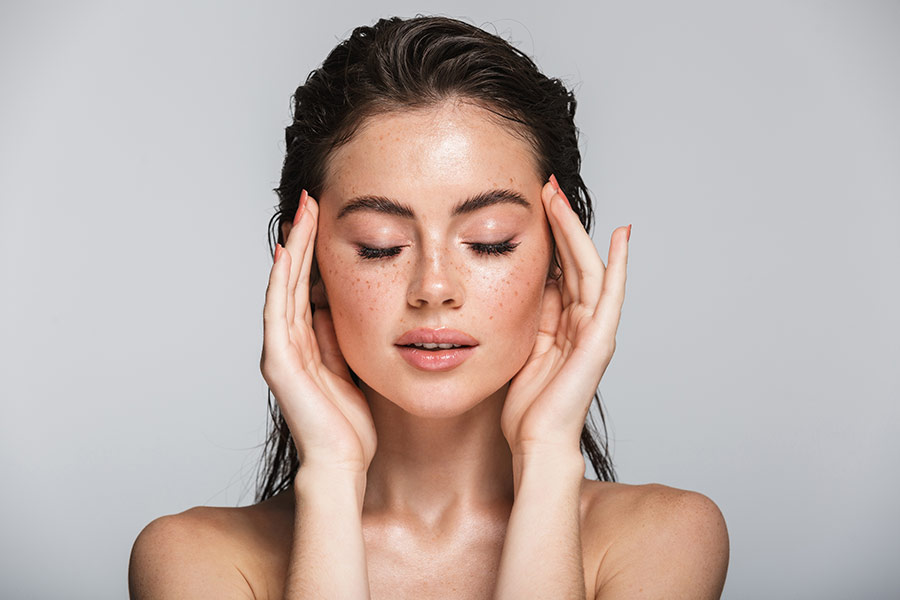 How to choose the best hyaluronic acid filler
The field of application of hyaluronic acid fillers is truly vast, whether the imperfections are caused by the loss of hyaluronic acid due to the passage of time, or whether they are part of a person's genetic characteristics.
For instance, hyaluronic acid fillers are useful for:
Moisturising the skin
Correcting nose humps without resorting to surgery
Enlarging and plumping the lips. while giving a natural effect
Correcting aesthetic eye defects as an alternative to blepharoplasty, e.g. in the case of a sunken eye problem
Restoring oval volumes lost with age or giving new ones to a young face 'emptied' in certain areas such as the cheekbones
The most important thing, when faced with one of these problems, is to turn exclusively to doctors or facilities specialising in aesthetic medicine.
It is up to the doctor to choose the best hyaluronic acid filler, evaluating different factors related to the patient's age, the area of the face to be treated, and the type of imperfection.
The side effects of hyaluronic acid, since it is a substance already present in the body, are in fact almost exclusively linked to the quality of the product chosen and the skill of the doctor performing the treatment.
Turning to experienced and accredited professionals is, therefore, the key step to achieving the desired results without risk.
What is the best hyaluronic acid filler on the market?
Stepping back in time, we recall that in the past, hyaluronic acid was obtained from cockscombs. This animal origin meant that the risks associated with its administration were much higher than today.
Enormous progress in research has meant that today the best hyaluronic acid is produced industrially from bacterial cultures, making it possible to obtain a hyaluronic acid with chemical and physical characteristics identical to that produced by our own cells.
The entire Foliage line, for example, produced by Phitogen Holding spa, a leader in the filler market, which holds an innovative patented technology and eco-sustainable production processes capable of producing fillers based on 100% Made in Italy pure high-end hyaluronic acid.
The raw material is free of nucleic acids and residual proteins, guaranteeing excellent quality standards and maximum safety.
What are the best face fillers?
As we said, it will be the doctor who decides which is the best hyaluronic acid filler according to the specific imperfection and the area of the face to be treated.
There are, in fact, injections based on hyaluronic acid in the form of transparent jelly of different densities, from very soft and fluid to heavier and more volumizing, and the specialist will identify the one indicated for the specific case.
Let's take a look at the characteristics of Foliage facial fillers according to the type of result desired.
Foliage Lips Volume is a sterile and resorbable monophasic cross-linked hyaluronic acid gel with an excellent degree of malleability.
This gel allows the product to adapt naturally to the lips and reshape them while respecting their natural anatomy.
The viscoelastic characteristics of this filler make it ideal for:
Increasing volume 
Increasing the degree of hydration and turgidity
Improving the shape
Correcting asymmetrie
Foliage Hydrofil is a bio-revitalising linear gel for strongly moisturising and shining skin.
The innovative formula, containing hyaluronic acid with 3 different molecular weights, provides an immediate and long-lasting biostimulation of the skin that enables a bio-restructuring effect from the first application to the following six months.
Foliage Soft is an innovative monophasic gel based on biodegradable cross-linked hyaluronic acid, specially designed to provide complete rejuvenation of the face by exerting a volumetric and restructuring action.
Thanks to its characteristics, it is able to integrate perfectly with the tissues and distribute itself homogeneously in the subcutaneous areas and is particularly suitable for treating:
Cheeks
Peri-zygomatic zone
Mandibular area
Hands
Cleavage area
Crow's feet
Barcodes
Foliage Medium is a monophasic viscoelastic solution based on ultrapure cross-linked hyaluronic acid.
This facial filler is indicated for volume restoration and correction of medium-sized skin sagging, exerting a supportive action on the tissues.
Its specific properties make it suitable for the natural and harmonious correction of facial hypovolumetries, allowing it to preserve the dynamic characteristics of the face, in particular:
Restoring volumes 
Subzygomatic and front zygomatic region
Nasogenial region 
Buccal corners 
Chin guard region
Reduction of medium-depth wrinkles
Foliage Intense is a volumizing gel based on cross-linked hyaluronic acid dedicated to restoring and remodelling medium to large volumes and improving symmetry and harmony of the face.
The peculiar viscosity of this face filler makes it possible to obtain:
Volumetric cheekbone augmentation
Correcting the nasal angle depression
Redefining the mandibular edge
Chin surgery 
Rhinoplasty
Therefore, the best hyaluronic acid fillers are specifically tailored to the specific problem.
Where to buy injectable hyaluronic acid
It is essential to know that injectable hyaluronic acid can only and exclusively be purchased and applied by medical specialists.
The doctor will decide which is the best facial filler to meet the patient's needs.
Many top professionals in the field of aesthetic medicine choose hyaluronic acid-base Foliage by Phitogen injectables, because of the quality of the raw material used and the ability of its filler lines to respond in a targeted and effective manner to specific problems.
To obtain satisfactory results, the patient for his part must be extremely clear in explaining to the doctor the type of result he wishes to obtain, bearing in mind that the new concept of beauty that is increasingly gaining ground focuses on natural effects, with the aim of improving one's appearance without distorting it.
Foliage is the result of 20 years' experience of Phitogen Beauty Labs - a leading group in the production of hyaluronic acid-based injectables. Foliage distributes a complete range of high-performing intradermal products.
CONTACT US
Via Valtellina, 21
San Benedetto del Tronto (AP)
63074 – Italy